In 15 years of operating my PR firm in Blount County, one of my favorite clients was Hickory Construction… and alongside Hickory's Pinnell Family, two of my favorite pillars of the Blount County / Greater Knoxville community have always been Hickory Co-founder Chuck Alexander and his wife Donna.
In hearing the news of Chuck's passing, I immediately reflected on his many kindnesses toward me over the years.
Chuck was so universally well-liked everywhere he went, but beyond that, he demonstrated genuine solidarity with his community colleagues… something I experienced directly.
It was a privilege to work with Chuck in those years before he fully retired from Hickory.
What was particularly special to me was his unwavering support and advocacy for me as a business owner.
I had the strong sense that he not only wanted to see me succeed as a woman in business… but also *for* that very reason as well. There's a notable distinction there. When a woman encounters that kind of welcomed support and ally-ship from such a prominent, long-established, and respected businessman as Chuck was, it matters, particularly in a small community.
Even though he was a client of mine, Chuck didn't hesitate to shift into a helpful mentorship gear when he could sense I was hitting a rough patch in my entrepreneurial journey… which happened on several occasions, like when my Maryville office was suddenly and completely destroyed in a fire in 2012 just as we were digging our way out from the throes of the Great Recession, or when my team hit a massive growth spurt 18 months later and found ourselves drinking from the proverbial fire hose.
The picture I've posted here is from when I reopened my office to a new location in 2013 after the 2012 catastrophe… and of course, I had the privilege of welcoming Donna and Chuck, who were among the first to arrive at my Open House to cheer me on: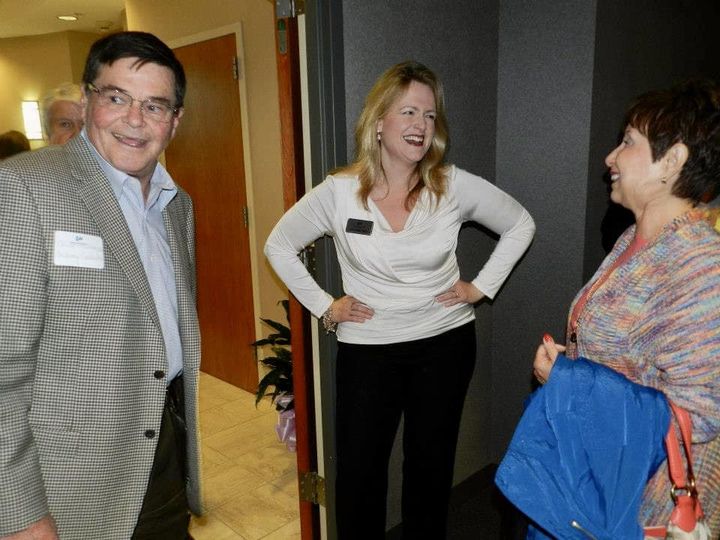 Chuck had a way of letting me know — without a drop of condescension or pandering in the least — that he was always game for coffee and a chat, to help me spitball an idea, or to be that empathetic listening ear for any frustration I was encountering. There likely were few "rodeos" out there that he hadn't already encountered himself, somewhere along the way.
That ever-present knowledge of his care and encouragement… that he was out there, rooting for me, on my side… was its own source of uplift.
Donna has felt like a role model to me as well… a lady I admire beyond words. Chuck was clearly in his happiest place with her by his side.
Together, Donna's and Chuck's philanthropic and other community support — not the least of which included Chuck's long-time service on our county's Industrial Development Board to bring meaningful job stability and growth to our region, positively impacting literally thousands of people — has served as its own legacy, to be felt for generations. Their exceptional support for New Hope Children's Advocacy Center has helped our community's most vulnerable kids… which speaks so accurately to the genuine empathy and care of their hearts.
Simply put, East Tennessee is a far better place because of the Alexanders.
I hope that in this loss, that Donna, their amazing children, grandchildren, and many loved ones, feel the love, appreciation, and admiration for Chuck and for the whole family, by the full community. Sending love and deepest condolences to all.
https://www.smithfuneralandcremation.com/obituaries/charles-alexander-jr?fbclid=IwAR3akvLTOXTf0krGRzP_QynAFhtud0lcAwkRLzexo20XIJLYBbaQF5NuLk4