In the contemporary roster of puzzling PR moves by a PR organization, one would be hard-pressed to find an example as egregious in the wake of the Hamas terrorist attack on Israeli civilians as the Public Relations Society of America—New York Chapter's (PRSA-NY) statement this week, apologizing for a prior statement the chapter made of solidarity with Israel only days earlier.
The situation glaringly exposes the organization for having about as much backbone as one might find in an autopsy of Gumby.
As reported in the intro of PRWeek's recap to this bizarre story: "PRSA's New York chapter has apologized three days after emailing members with a pledge of support for Israel."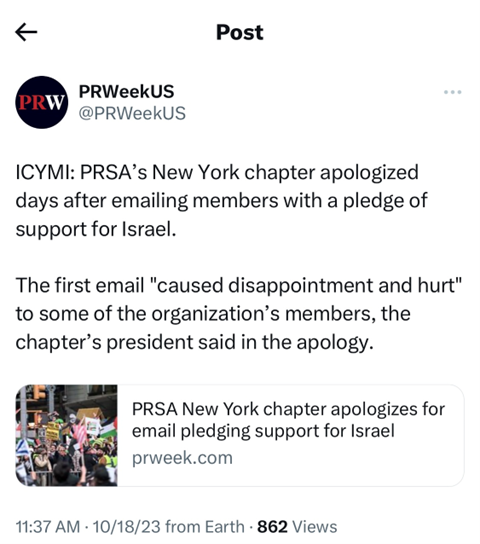 Apparently, the prior Saturday (Oct. 14, 2023), PRSA-NY sent its chapter members a different e-mail with a subject line reading, according to O'Dwyer's, "Statement and pledge of support for Israel, from PRSA-NY President Carmella Glover," one week after the horrific Hamas attacks and massacres of innocent Israeli civilians occurred.
PRWeek reported that "In the initial email that went out on Saturday, PRSA-NY called on all communications and PR pros to confront and call out intentional disinformation and unintentional misinformation 'in a way that only communicators can.'"
Well, no problem there.
But apparently, according to O'Dwyer's, "PRSA-NY president Carmella Glover sent (a subsequent) email to members on Oct. 17 to offer a 'heartfelt apology' on behalf of the chapter for her Oct. 14 message that 'caused disappointment and hurt to some of our valued members'."
According to a recap of Ms. Glover's apology e-mail as reported by PRovoke:
"We deeply regret the insensitivity in our subject line, which was thoughtless, partial, and irresponsible. I know this was especially disheartening coming from a professional association that advocates for ethical behaviors and messaging," Glover wrote.
"Our intention was to convey a message of support and unity for all those who are affected by the violence in Israel and Gaza. However, I acknowledge that we missed the mark (to say the least), and for this, I take full responsibility," she wrote.
No information was reported about precisely how many of PRSA-NY's some 400 members felt "hurt" or "disappointment."
Clearly, however, Ms. Glover implied on Oct. 17 as clear as day that her earlier statement of Oct. 14 supporting Israel LACKED in being thoughtful, impartial, responsible, or even ethical.
Wow.
In characteristic PRSA-playbook fashion, Ms. Glover "could not be reached for comment" by the trade media covering this story.
But this much we do know: the feelings of PRSA-NY's Jewish community members were — as of Oct. 17 — no longer as "valued" as those of others.
Which begs this question:
Could PRSA-NY have orchestrated a bigger slap in the face to the Jewish community, with insult on top of injury as these colleagues already were still reeling from Hamas' particular brand of pure evil, which apparently, Ms. Glover could not find her way clear to call out in any manner whatsoever?
When PRSA-NY announced Ms. Glover in January 2023 as chapter president in a wire service news release, she was quoted as saying, "We will continue to assume responsibility, beyond our professional development goals, for taking a stance and leading meaningful action to drive positive transformation amid the backdrop of societal changes."
The first announcement Ms. Glover made supporting Israel seemed to accomplish this aim; her second announcement apologizing for the first one utterly decimated it.
Not to be outdone in the moral confusion department, PRSA National Chair Michelle Egan also took it upon herself last Sunday (Oct. 15) – right at the kick-off to PRSA's International Conference (ICON) in Nashville – to interject PRSA's national brand voice into the fray, by making her own kumbaya statement in an apparent attempt to be all-things-to-all-people, signifying nothing.
From the PRSA ICON lectern, Ms. Egan offered up these remarks, which were then issued by PRSA across social media: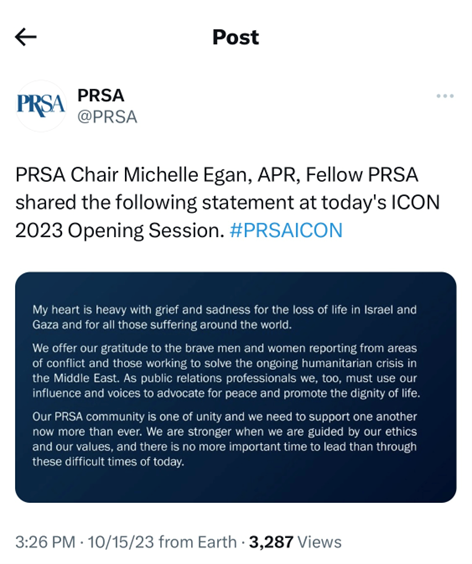 Among some of the more pointed social media responses to Ms. Egan's comments:
"This statement is an embarrassment to #PRSA, to Michelle Egan, and to our industry. This was an act of barbarism, a crime against humanity, something the world has not seen since the 1940's. I question my membership if this is how this organization responds to this horror. As the organization for #publicrelations practitioners, this is unacceptable. It's weak. It's a joke." –Debbie Albert
"Glad I dropped my membership when I moved to Israel. I see that for PRSA, Jews are expendable. But we are nurturing our own PR teams. My 15 year old granddaughter spent two hours last night training to be an effective advocate for our country on social media." –Nadine Bonner
"It's deeply concerning that PRSA considers this to be the gold standard for a statement in reaction to the atrocities inflicted on innocent civilians in Israel. We must squarely condemn hate and terrorism." –Trevor Eckart
"Terrible statement from the leader of our industry. Hamas butchered defenseless Israeli men, women and children. This must be condemned unequivocally. There is no room for moral equivalence here. None." –Nick Kalm
"We couldn't bring ourselves to condemn the terrorists? Deeply disappointed in the false moral equivalence in this statement. It shouldn't be this hard to condemn evil crimes." –Steve Lubetkin
"I have long been a member and supporter of PRSA.  I am outraged by this statement. That they did not condemn the genocidal terrorist attacks on Israel is outrageous.  That they tried to create a moral equivalency between terrorist attacks and the brutal torture and murder of babies, elderly and civilians with Israel's right to defend itself is disgusting. This year I have had many reasons to be concerned about ethical issues involving PRSA. The organization has lost its way. PR leaders should not hesitate in taking stands and saying the right thing. THAT'S WHAT WE DO!  This should not have been hard at all. But they totally got it wrong." –Virginia V. Mann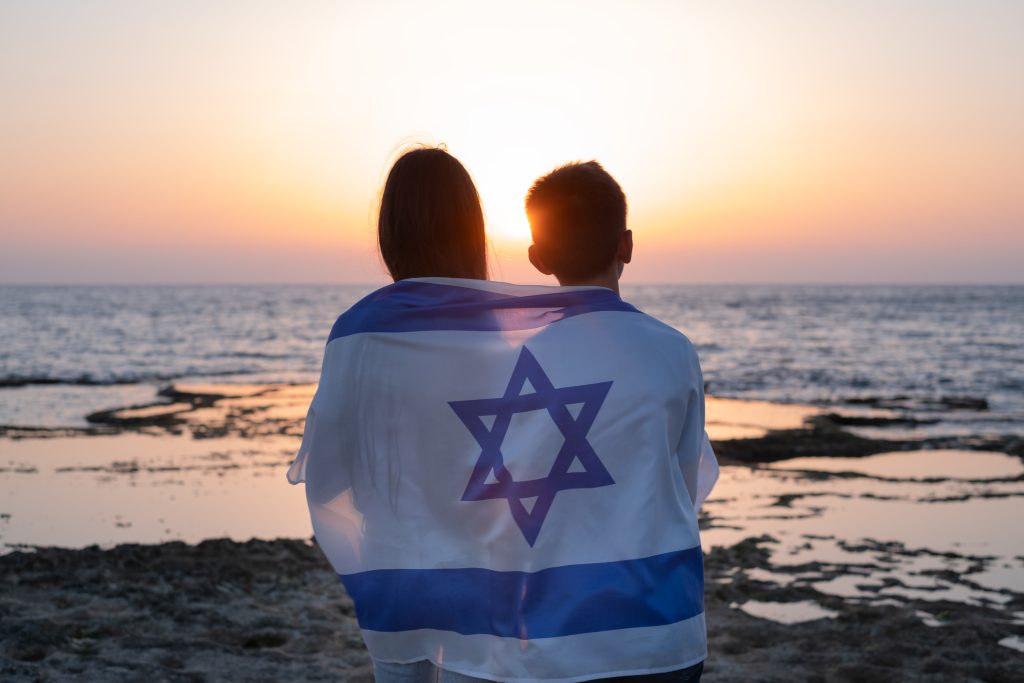 Among the ironic twists of this situation is that PRSA-NY is led by a woman, Carmella Glover, who claims credentials as a foremost PR industry expert on all-things-diversity… so much so, that she apparently earns not one but two paychecks concurrently for in-house roles at two separate organizations, promoting diversity and inclusion.
She currently serves "part-time" (according to her LinkedIn profile) as VP / Chief Diversity, Equity and Inclusion Officer at the Page Society, while also serving "full-time" (according to her LinkedIn profile) as President of the Diversity Action Alliance, which I'm unsure has ever had a year without running a deficit in its entire four years of existence, being propped up by none other than PRSA, which itself has run six- and seven-figure net losses of member dollars since 2019 (someone please prove me wrong!).
All of this to say:
If Ms. Glover is juggling "full-time" duties at DAA plus "part-time" responsibilities at Page while also serving as a voluntary president of the PRSA New York Chapter, then maybe Ms. Glover needs to enlist a bit more help toward making consistent decisions… because this inexplicable course-reversal is an utter embarrassment to New York's PR industry.
And not that I have a dog in PRSA's hunt anymore – because, blessedly, I don't – but it's also an embarrassment to the PRSA brand, particularly now that global PR trade media emblazoned this story across their digital pages this week.
With regard to PRSA-NY, I seriously question the leadership of anyone who would backpedal a prior statement of solidarity with Israel, given the grizzly, criminal deeds that transpired on Israeli soil, compounded by Israeli civilian kidnapping victims hauled off by Hamas terrorists to be brutalized and/or murdered on Palestinian soil or other places unknown.
For crying out loud, if you're going to make a statement at all in matters of such consequential world affairs, then be sure it's a statement you can stick to, with ethical clarity. "Gumby"s need not apply.
Further, if you make the decision to issue public proclamations, at least have a plan in place to respond to people who push back with legitimate questions and concerns.
The silent treatment serves as an obvious sign of deer-in-the-headlights and lack of any strategic rationale for having piped up in the first place.
Personally, I resent that the PR industry's obsession with identity-politics / virtue-signaling has degenerated to a moral-ambiguity morass that has only served – as illustrated in this case – to produce moral ineptitude punctuated by paralysis-by-analysis, alongside an inexcusable insult to colleagues and communities of the Jewish faith.
PR 101 teaches us this maxim: Know your audience.
Did PRSA National or PRSA-NY bother to consult a diverse faith community when they crafted either statement or — in PRSA-NY's case — made the decision to renege after-the-fact?
I was going to ask PRSA-NY this question, but as I discovered on "X," I already received my response: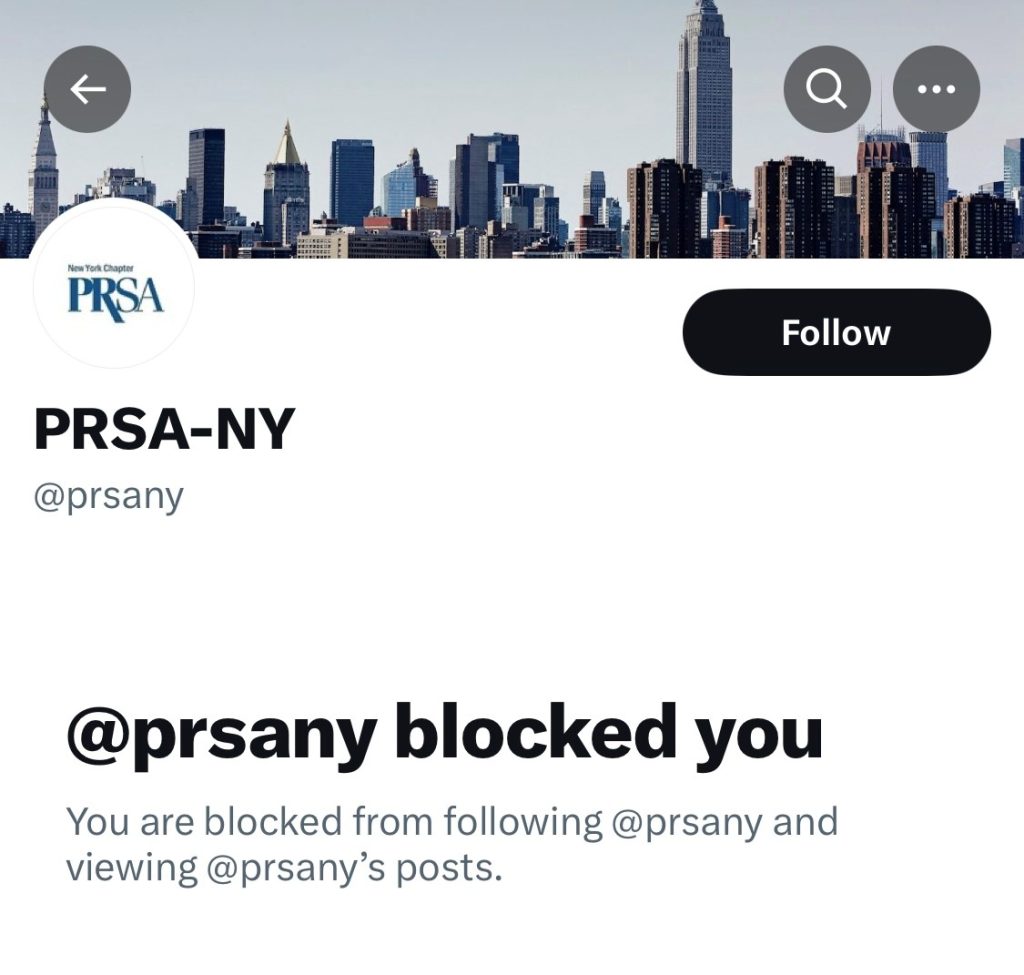 Really, Carmella? Truly pathetic.